Hi! It's a new week, and I'm ready to get started on today's post! I do want to mention a few things first. Firstly, I had Marathi Shala on Friday, as you know, and our HW that week was to write about our quarantined summer. My teacher asked me to read mine in class, with two others, and a whole bunch of other kids who were also wanting to read theirs. Anyway, apparently, she asked me to read mine because she was really impressed with my gardening, and learning Latin and Japanese, and mostly, writing a blog. She did ask for the link and I sent it to her and got a whole bunch of comments on how it was amazing and how mature I am. I'm got really embarrassed when my dad read the comments she wrote and sent it to the other parents- with permission of course. What's a little awkward when I write this is that, I don't know whether they- the other kids/students- might be reading this post when it comes out, and could end up reading about themselves, so yeah. Hi. I didn't tell her that I have been writing for at least 6 years now, so that's a little disappointing, but anyway, let's continue.
The RNC- Republican National Convention- ended, so we are going to talk about something else- political related. I have been talking or I talked about West Wing before- the show, and I wanted to actually explain it a little further. It is, indeed a political show, about what goes on in the West Wing. It is a really good show, to me it is, and I really like it. It expresses a lot of the everyday issues that happen and how they all work to get these issues resolved. As well as, what it looks like on election days, through the campaigns and actually on election day, what they anticipate and wait for and do as they wait for the results. Even though most of the time the scenarios are dramatized for the, watch the series, effect, it is really fun, interesting, and amazing to watch. I really enjoy watching the episodes.
So anyway, here is a quick list of the main, or important characters.
Communications Director- Toby Ziegler
Deputy Communications Director- Sam Seaborn
Press Secretary- C.J. Cregg
President's Personal Aide- Charlie Young
Deputy Chief of Staff- Josh Lyman
– Assistant is Donna Moss, she's important in between
Chief of Staff- Leo McGarry
First lady- Abigail Barlet
President- President Jed Bartlet
These are the main, 8 characters, that stay throughout the entire series, besides Sam who leaves in around season 5. The other characters that become important, come in later, but mainly, these 8, are the ones who are the most important to the series. Plus, there is one more character, who is not necessarily a main character but is one of my favorites- Joey Lucas. Despite that she, yes she, is deaf and has speech problems, she is amazing and really good at her job. Anyway, that was a brief overview of, the series, The West Wing, and I hope you check it out. By the way, there is some crude language- which I always ignore- but otherwise, it is fun to watch.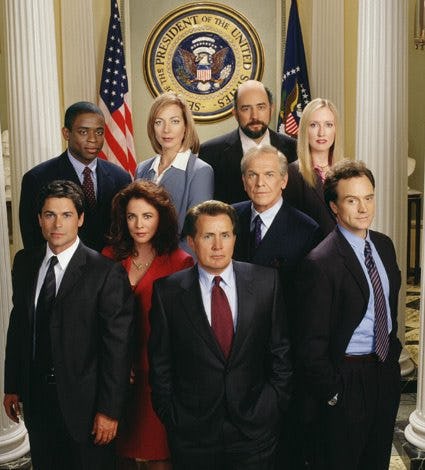 ( From back to front, left to right, Charlie Young, C.J. Cregg, Toby Ziegler, Donna Moss, Sam Seaborn, Abigail Bartlet- First Lady, Jed Bartlet- President, { between front and back} Leo McGarry, and Josh Lyman)